The 111 service has come in for heavy criticism for its perceived performance this winter. Steven Morris spends a day with the call handlers and clinicians at one centre.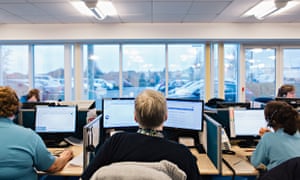 Call handlers in light blue and a clinician in dark blue at IC24's NHS 111 call centre in Ashford. Photograph: James Drew Turner for the Guardian
Laura Hollingsbee's shift begins with a call from a mother whose son has contrived to get a bean stuck up his nose. The little boy is sneezing constantly and not breathing comfortably, so Hollingsbee, an NHS 111 call handler, advises mum to take him to his local A&E department.
Over the next eight hours, Hollingsbee and her colleagues at this call centre tucked between a car showroom and kitchen warehouse on a business park in Kent offer help, advice and succour to around 500 people ranging from an elderly woman who fell out of bed and cannot move, to a commuter who is bleeding after an operation but still set off for work on the train, and a patient who wondered whether a stool sample could be stored overnight in the fridge (answer – yes, as long as it's wrapped up well).
At the end of her shift, Hollingsbee, a 24-year-old former care home worker, wonders what happened to a baby whose panicked mother rang the 111 triage service worried about the child's high temperature. After following an algorithm that prompted her to ask questions about the child's condition – including whether the infant seemed floppy and whether he could have been exposed to the Ebola virus – Hollingsbee recommended that the parent take the child to see a GP within six hours and give the child plenty to drink in the meantime. She emphasised that if the child's condition worsened she should dial 999.
"I did think of them later," she says. "Some calls do stick in your mind and you wonder what became of them. I hope they are OK. I think she'd have called back if she was worried. You do your best to give the right advice, you do your best for all your patients."
The 111 service, set up to triage urgent but non-life-threatening cases, has come in for heavy criticism in recent weeks – attacked and mocked in parliament, in the press and by some other medical professionals for its perceived performance during this winter's emergency care crisis.
It was criticised by some for supposedly creating congestion in hospitals by sending too many patients to A&E departments, and criticised for not sending others who perhaps should have gone to emergency departments. There have been claims that the service is staffed by unskilled workers with too little supervision from clinicians, and complaints that the algorithm is inadequate, too formulaic.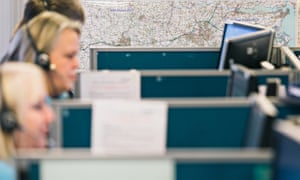 IC24 staff taking NHS 111 calls. Photograph: James Drew Turner/Guardian
On the day the Guardian visited the call centre run by the provider IC24 last week, Hollingsbee recommended only one person go to A&E (the boy with the bean up his nose). Others were pointed towards GP surgeries, walk-in centres or pharmacies, or given advice allowing them to stay at home.
By the end of her shift Hollingsbee has taken around 20 calls and is satisfied with her day's work. "Every single day is different. Sometimes you send almost all to A&E, sometimes none."
She feels there are lots of clinicians to turn to for help. People like Michael Cook, who spent 30 years on the road as an ambulance paramedic and is now a clinician at IC24. He sits among the call handlers (wearing a dark blue T-shirt; the call handlers are in light blue), and if a non-medical colleague is not sure what to do, the call is "warm-transferred" – transferred quickly – to him or another clinician.
Cook says it took him some time to get used to not seeing patients face to face. "But I think the system does work pretty well," he says. Callers he speaks to during this 12-hour shift include a parent of a child with a rash, whom he sends off to a pharmacy, and a father who is worried about a lump on his son's head; Cook suggests he attends a walk-in centre. The commuter bleeding after an operation is also warm-transferred to him, and Cook recommends a visit to A&E.
In the corner, an electronic screen nicknamed the "war board" tells the story of the day – how many calls have come in, how many people are waiting for advice. IC24 has the 111 contract for parts of Essex and Norfolk, covering a population of about two million. During this 24-hour period, its staff will deal with 1,062 calls. The war board displays remain green, showing IC24 is meeting its waiting time targets.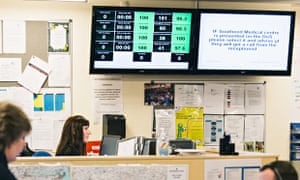 The 'war board' at the call centre in Ashford. Photograph: James Drew Turner/Guardian
It was different over the festive period when the screen turned ugly reds, yellows and blacks. The managing director was in the room, making tea and foraging for supplies down the road at McDonald's to keep the troops going. The picture was the same across England. On the busiest day, 123,000 calls were made to 111 in England, 175% higher than the previous record for a single day.
NHS England denies the charge that 111 providers send too many patients to A&E departments. It said that in the busiest festive week, the percentage of callers recommended to attend an emergency department fell from 8% to 6% and referrals to ambulances dropped from 11% to 10%. But inevitably more people were sent, because more people were calling in.
Dr Clifford Mann, president of the College of Emergency Medicine, said the biggest spikes in the number of attendees at A&E departments coincided with weekends when there was a shortage of out-of-hours care. "NHS 111 are getting bashed because they are easy to bash." But in reality, he argued, NHS 111 sent patients to A&E because often there was simply nowhere else to go for help.
In an IC24 training room a new group of non-medical recruits is beginning day one of a 10-week course. They won't earn big bucks – call handling posts are currently being advertised at between £7.68 and £9.98 an hour.
The recruits are told they may get calls ranging from someone with a splinter to a caller whose loved one is not breathing. They are not being trained to be doctors or nurses but to be able to use the Pathways algorithm that will help them assess patients and pass them on to local services – or, if necessary, send an ambulance. They are assured that clinicians are at hand – the ratio here is one clinician to 4.5 call handlers; the national minimum requirement is 1:6.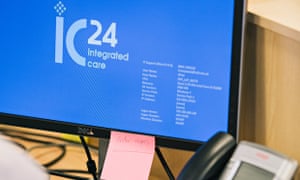 A worker's desk at the NHS 111 call centre. Photograph: James Drew Turner/Guardian
But the algorithm remains controversial. In the House of Commons, Andrew George, the MP for West Cornwall, attracted headlines when he claimed the system led to one of his constituents being asked by a call handler whether he was conscious – when he was talking to 111 on the phone.
IC24 staff are surprised at this story. The first question on the algorithm does read: "Is he/she breathing and conscious?" But they are taught to listen carefully and make sure they are clear about who is calling. The algorithm goes on to ask whether the patient is bleeding heavily (ie more than a mug-full for an adult) or fighting desperately for breath. Depending on the response, the call handler is taken to the next question or set of questions.
There are critics of the algorithm within the industry. Urgent Health Care UK, a federation of social enterprises with members that run 111 services, argues that Pathways is good for dealing with new episodes of illness, but not so good for tackling ongoing conditions. It says the system ought to be more flexible and it would like handlers to listen for 30 seconds before launching the algorithm.
The IC24 staff do not say Pathways or the 111 service is perfect. Hollingsbee says she had cause to ring 111 for a sick relative the previous weekend. She went through to a centre run by another provider. "I wasn't impressed. I can understand why some people get frustrated." It may help that IC24 is a social enterprise, reinvesting any profits back into services rather than passing them on to shareholders as some other 111 providers do.
Jacqueline Jedrzejewski, deputy director of clinical services at IC24, says 111 is still evolving. She is excited at the prospect of a pilot scheme in which mental health professionals, dental experts and pharmacists will sit with IC24 call handlers.
But she passionately defends the skill of the call handlers. "They put up with a lot of abuse, especially after the sort of headlines we have had. Remember, they want to make a difference, they are not call centre workers selling mobile phones, they are delivering healthcare. And the worrying thing is that people who need the service will be put off from calling. They should never think of themselves as being unwanted or a nuisance. We are there for them."